Fundraiser Raffle Official Rules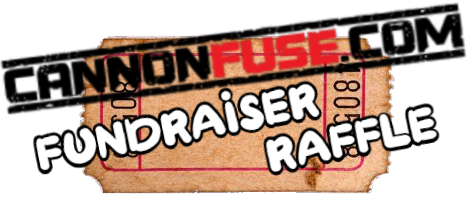 PLEASE READ THIS PAGE CAREFULLY.
Participation in the Raffle indicates consent to the following Terms & Conditions.



If you have questions or concerns, please feel free to

contact us.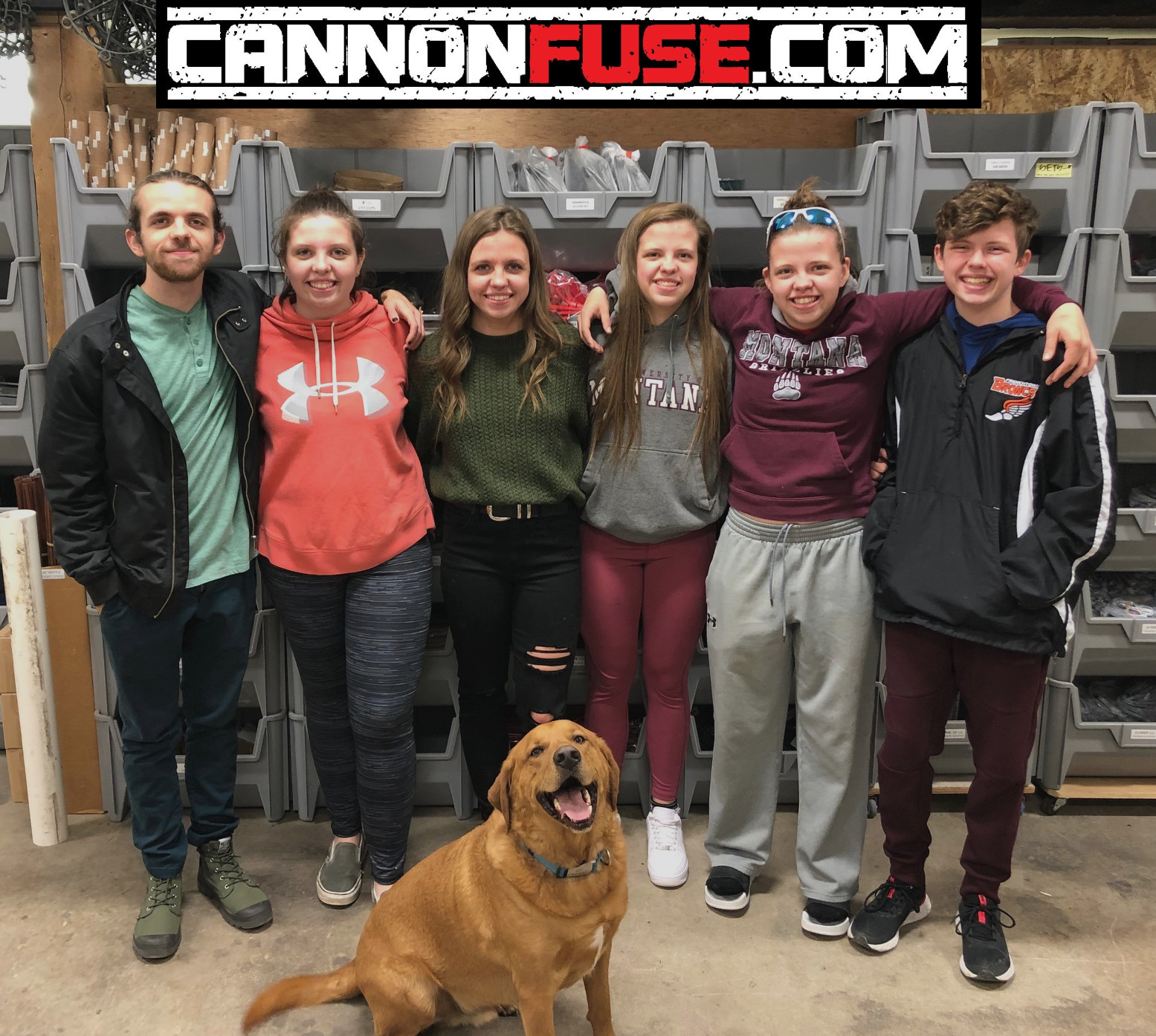 All proceeds from ticket sales directly benefit University of Montana programs which
CannonFuse.com employees (pictured above) are involved in/with.
These amazing kids do school full time AND work hard to get your orders out to you!
Buy your tickets HERE before they're gone!

Promotion Description:

The CannonFuse Fundraiser Raffle will grant fifteen (15) lucky winners with fifteen (15) respective prizes. Raffle tickets will be available from November 2020 until December 18th 2020, afterwhich the winning tickets (and winners) will be selected at random and notified via email. Prizes will ship promptly on December 19th 2020, hopefully (no guarantees are made regarding shipping/delivery) arriving in time for New Years.
All proceeds from ticket sales will directly benefit University of Montana programs which CannonFuse.com employees are involved in/with.

Eligibility:

Customers must be at least 18 years old to be eligible to enter. A minimum of one (1) raffle ticket must be purchased to gain entry into the raffle; multiple tickets can be purchased to increase entries. A ticket purchased by an ineligible customer is void, and cannot be a winning ticket. Tickets are offered as such: 1 ticket=$5.00, 3 tickets=$10.00, or 10 tickets=$25.00 (multiple multi-ticket sales are permissible). Ticket sales are final; no returns or refunds are allowed.

Official Prizes:

The prizes for this raffle (with included FREE shipping) are as follows:
GRAND PRIZE (1 winner):
24-Shot HD Rack/Tube Package + FireFly Mini Firing System + 2 Packages Talon Igniters (3m)
Retail value of approximately $345.96

2nd PRIZE (2 winners):
Black Powder Golf Ball Mortar + 1 package FE-122 Premium Cannon Fuse
Retail value of approximately $104.94

3rd PRIZE (3 winners):
$100 Fuse Bundle
Retail value of approximately $100.00

4th PRIZE (4 winners):
Black Powder Field Cannon
Retail value of approximately $39.95

5th PRIZE (5 winners):
Fuse Cutter
Retail value of approximately $19.95

Winner Selection:

The raffle will end at 5:00 PM MST on December 18th 2020 and the winners will be announced soon after the raffle closes. The winners will be chosen in a random drawing and will be notified by email or (if necessary) phone. Prizes will be shipped promptly the morning of December 19th 2020; CannonFuse.com makes no guarantees regarding delivery dates/times.

Verification of Winner:
All potential winners are subject to verification of eligibility by CannonFuse.com, whose decisions are final and binding in all matters related to the Raffle. Potential winners must continue to comply with all Terms & Conditions of these Official Rules, as well as all Terms & Conditions of CannonFuse.com. The potential winners will be notified by email or phone. If a potential winner of the prize cannot be contacted or if the applicable prize is returned as undeliverable, such potential winner forfeits the prize. In the event the prize winner is disqualified for any reason, CannonFuse.com will award the prize to an alternate winner by random drawing among all remaining eligible entries. Winner must present raffle ticket stub if asked to prove eligibility.

Privacy:

Except where prohibited, participation in the Raffle constitutes winners' consent to CannonFuse.com and its agents use of winner's name, opinion, and/or hometown and state for promotional purposes in any media, worldwide, without further payment or consideration.The winner's name will be published on the website and/or in a sales email unless the winner specifically requests that their name/information be kept private.

General Conditions:

CannonFuse.com reserves the right to cancel, suspend and/or modify the Raffle, or any part of it, if any fraud, or other factor beyond CannonFuse.com's reasonable control impairs the integrity or proper functioning of the Raffle, as determined by CannonFuse.com in its sole discretion. In such event, CannonFuse.com reserves the right to award prizes at random from among eligible entries received up to the time of the impairment. CannonFuse.com reserves the right, in its sole discretion, to disqualify any individual, without compensation, it finds to be tampering with the entry process or the operation of the Raffle or any other promotion or in an unsportsmanlike or disruptive manner. Any attempt by any person to deliberately undermine the legitimate operation of the Raffle may be a violation of criminal and civil law, and, should such an attempt be made, CannonFuse.com reserves the right to seek damages from any such person to the fullest extent permitted by law. CannonFuse.com's failure to enforce any term of these Official Rules shall not constitute a waiver of that provision.

Release:

By receipt of any prize, winner agrees to release and hold harmless CannonFuse.com and any respective subsidiary, and affiliate companies, supplies, distributors, and advertising/promotion agencies, as well as each such company's officers, directors, employees, and agents (collectively, the "Released Parties") from and against any claim or cause of action, including, but not limited to, personal injury, death, or damage to or loss of property, arising out of participation in the Raffle or receipt, use, or misuse of any prize.
Limitation of Liability:

The Released Parties are not liable for: (1) any incorrect or inaccurate information, whether caused by entrants, printing errors, or by any of the equipment or programming associated with or utilized in the Raffle; (2) unauthorized human intervention in any part of the entry process of the Raffle; (3) technical or human error which may occur in the administration of the Raffle or the processing of entries; or (4) any injury or damage to persons or property which may be caused, directly or indirectly, in whole or in part, from entrant's participation in the Raffle or receipt or use or misuse of any prize. If for any reason an entrant's entry is confirmed to have been erroneously deleted, lost, or otherwise destroyed or corrupted, entrant's sole remedy is another entry in the Raffle.

Disputes:

Except where prohibited, entrant agrees that: (1) any and all disputes, claims, and causes of action arising out of or connected with this Raffle or any prize awarded shall be resolved individually, without resort to any form of class action; (2) any and all claims, judgments and awards shall be limited to actual out-of-pocket costs incurred, including costs associated with entering this Raffle, but in no event attorney's fees; and (3) under no circumstances will entrant be permitted to obtain awards for, and entrant claims all rights to claim, indirect, punitive, incidental, and consequential damages and any other damages and any other damages, other than for actual out-of-pocket expenses, and any and all rights to have damages multiplied or otherwise increased.