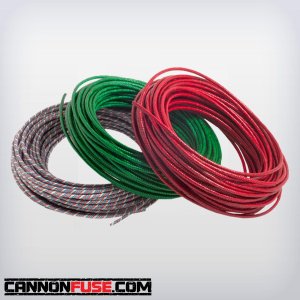 Customer service is fantastic.
My order arrived on time as they said it would.
Buy American fellow Patriots.

The 3.5mm red slow fuse can't touch the American visco fuse the American visco has way more lacquer on it and another thing the 3.5mm is to stiff when u cut it black powder come out of it

Easy to get what you need, fast. Thanks In montucky!!!

Great fuse. Still burns consistent after almost a year and a half of just sitting in the garage. Will definitely use again!

Ordered (2) 50' rolls Green fuse.
Excellent service, Great quality, Great price, Speedy delivery.
Definitely will buy from this company again !!

who knew that a fuse could be pretty; well i just got my 50' roll of R/W/B visco from cannonfuse.com today, and WOW that's some pretty fuse!!!

For years you excellent customer service with world class products excels. I am truly grateful.

This is the best deal for the best fuse that I've been able to find hands down, I would highly recommend this website to anyone looking for pyro supplies, thank u cannon fuse.

Excellent fuse!

I hit 4 by accident too....5 star for sure...